Designated ASD Provision 2017-18
In September 2007 Bridgewater High School became a 12 place Designated Provision for students with an Autistic Spectrum Disorder (ASD) aged 11-16. Previously this was a 12 place Enhanced ASD Provision. There is a Provision on both Upper Site) and Lower Site) with the staff working together across both. In September 2012 we increased to a 16 place Provision. In 2016 we increased our numbers to 22 places across KS3 and KS4.
Designated Provision is a discrete provision in a mainstream school and as such pupils in the Designated Provision have access to the Provision throughout the school day, including at those times when they integrate into the mainstream classes.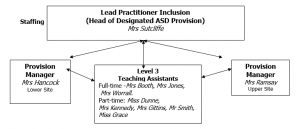 The Designated Provision provides;
Small group teaching
Individual teaching
Support when needed in mainstream classes
Access to the full Curriculum
Social Skills groups
The facility to take part in a full range of examination subjects
The opportunity to take part in a range of extra-curricular activities
An area in which students feel safe and secure within throughout the school day
The pastoral needs of the students are met through;
Membership of a mainstream tutor group if appropriate
Daily individual support and guidance
Peer mentoring
The emotional needs are met through;
Supportive relationships with Provision Staff
Application of specialist strategies when appropriate
Close liaison with parents/guardians
Liaison with outside agencies
Specialist support available within the Provision throughout the school day
Ofsted Nov 2011
'Support for students whose circumstances make them vulnerable is particularly strong, with all groups, including those diagnosed with autistic spectrum disorder, making progress in line with their peers.'
Warrington Peer to Peer Review March 2017
Summary Statement:
It is the view of the Peer team that this is an Outstanding Designated Provision. Ongoing improvements made following advice have been absorbed into daily school life and the students here get a good deal of support and challenge in order that they might make the most of their time here. Parents re-iterate the DP mantra that "they make them wobble but make sure they don't fall". This practice aids pupil resilience and independence and untimely aids learning and preparation for the next stage of life.
Entry into the Designated ASD Provision at Bridgewater High School
Places within the Provision are allocated by Warrington Education Authority and are not based on location to the school. Students need to have an Education, Health and Care Plan or a Statement for an Autistic Spectrum Condition.  Requests for a place can be made through the EHCP Review Process.
If you require any further information or would like another look around the school then please do not hesitate to contact us.
Tel: 01925 263814
Email: s.sutcliffe@bridgewaterhigh.com
Year Groups Pastoral Organisation
Each year group is split into two halves called Stockton and Appleton. There are five tutors for each half of the year group. The work of the tutors is managed by a Pastoral and Achievement Leader (PAL) and a Pastoral and Achievement Manager (PAM) who has overall responsibility for pastoral matters in each year group. This pastoral support is further enhanced by Assistant Headteachers who coordinate pastoral work across each Key Stage. In addition we have a number of colleagues in school who can provide more specific student support if needed or arrange access to a range of outside agencies. The pastoral team meet regularly to review progress.
Attendance
Illness
If your child is unwell and unable to attend school please telephone school to inform us of the absence (Lower Site 01925-263814 / Upper Site 01925-263919)
Appointments
If your child has to leave school early or arrive late to school because of an appointment please confirm this in the form of a signed note. This should be shown to the office where a Signing Out / In Slip will be issued.
It is essential that we make every effort to ensure that our attendance data is accurate. Therefore, we would like to ask for your support in ensuring that students do not mis-use the absence log in any way; if they do so, then serious consequences will follow.
Monitoring absence for such a large student body is a demanding task. We appreciate in advance your support in ensuring that unavoidable absence is reported to us as quickly as possible.
Requests for Absence
Parents do not have a right to take their children out of school for holidays during term time. By law you must ask permission for your child to miss school.
Parents wishing to apply for their child to have leave from school should complete the relevant form (click here) and return it to school for authorisation well in advance of the proposed leave.
Behaviour
We have the highest of expectations regarding the behaviour of pupils at Bridgewater High School. Pupils are encouraged to behave in a positive way through the school ethos which encourages individual responsibility and a respect of each others rights. Posters displaying our expectations are displayed around the school. Pupils are rewarded for good behaviour by Positive Points, letters home and certificates. The number of points that pupils receive is then totalled with pin badges being issued once milestones are achieved. Pupils achieving the highest number of points are taken on reward trips in February and July of each academic Year.
Where pupil behaviour falls below the standards that we would except the school uses a range of strategies. Within a lesson the focus at all times is to de-escalate the poor behaviour so that teaching and learning for all can continue. This will be ensured through verbal warnings or the moving of seats. For more serious and or consistent poor behaviour the pupil will be monitored with realistic targets set to bring about improvement. The school also operates Inclusion facilities to allow learning and progress for all pupils. Should behaviour continue to deteriorate or be a very serious one off incident the school will utilise the most serious sanctions of fixed term and permanent exclusion.
Anti-Bullying
Bridgewater High School has a zero tolerance approach to bullying of all kinds. We believe that it is the right of every pupil and every staff member to work in a positive and safe environment and that it is the responsibility of everyone to make sure that this happens. To ensure that everyone has an opportunity to report concerns about bullying, Bridgewater uses both the CEOP reporting system for online abuse (see the button on our homepage) and also accepts emails to the address tellus@bridgewaterhigh.com. Concerns can be reported with contact details or anonymously. Any issues reported via tellus will be dealt with by our pastoral team as soon as possible.
Rewards
At Bridgewater we work hard to acknowledge the efforts and successes of our pupils. Teaching staff are in regular contact with parents and will often send home letters of praise throughout the year. Our formal rewards system involves pupils receiving lesson scores for every period of the school day which indicates their commitment to the lesson. All pupils start on a 2 and can be moved 'up' to a 1 where they have shown particular commitment in that lesson. These scores are averaged each half-term and those with a score of 2.0 or lower receive a letter home and are entered into a raffle.
Click here for further details on what the numbers mean.
Alongside this system our pastoral staff monitor attendance, punctuality and behaviour (via the lesson scores) and pupils who perform consistently well in these areas are acknowledged in rewards assemblies and via opportunities to attend reward trips at Christmas and Easter.
Two highlights of our academic year are our annual rewards evenings at KS3 and KS4 where academic and pastoral staff nominate pupils for outstanding achievement and effort.