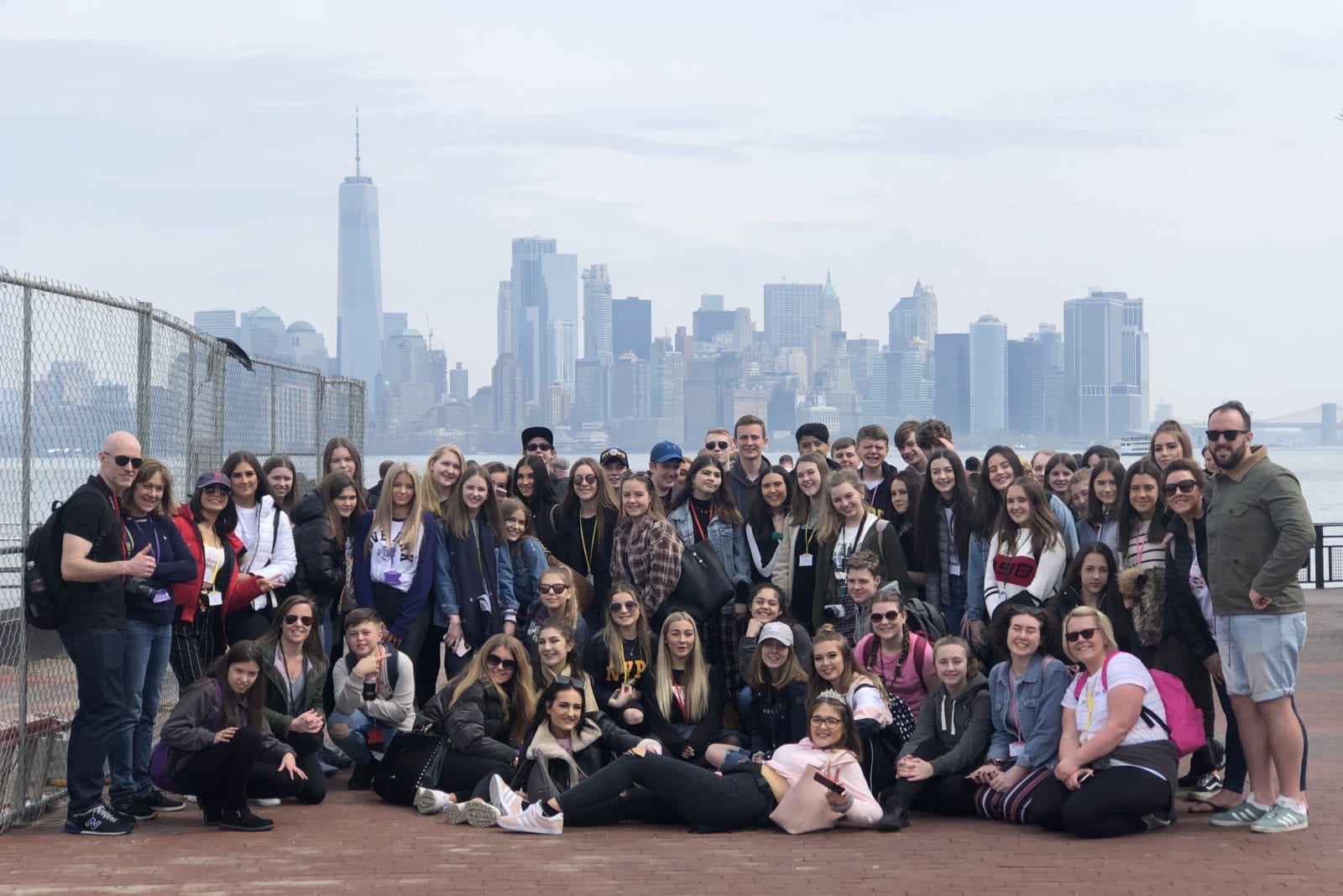 Mrs Antell's New York Reflections
During the Easter break I took 57 pupils along with 6 staff members to New York. We had a fantastic time and the trip was a huge success. We started in style flying with Virgin Atlantic; one pupil even flew first class!
When we arrived at JFK we were surprised by how warm it was and this lovely weather continued throughout our stay in the Big Apple. We checked into the Hotel Wolcott in Manhattan, close to the Empire State building, and went straight to Times Square for dinner in Bubba Gump Shrimp – The famous 'Forrest Gump' restaurant.
The next day, we were up and out and split into two groups: The Art students explored the MoMA with Miss Crawford as their guide, and the Musical Theatre group took part in a Broadway Experience workshop. During the workshop, the students learnt a song and routine from the Broadway show 'Frozen'. They worked with the stand in Anna from the show, Aisha Jackson, and Michael Dansicker, whose C.V. includes High School Musical and Elf movies! Both the Workshop and the MoMA activities were very special and the pupils thoroughly enjoyed it.
After lunch, we were lucky enough to see Frozen on Broadway which was absolutely incredible. Mrs Swaffield cried from start to finish! After the show, we went to Ellen's Stardust Diner where the waiters perform during the meal. It was a highlight of the trip for sure. We completed this fabulous day by heading up to the top of the Empire State Building where we bumped into Mrs Shaw! This was my favourite day and I loved the show!
The next day was for sightseeing and we visited the Statue of Liberty and Ground Zero before hopping on our Movie and TV sightseeing tour. We visited the Friends building and the Ghostbusters house and saw many more famous places. New York is a real life movie set! We then went ice skating at the Rockefeller Center and had our evening meal at The Hard Rock Café.
On the final day in New York we got the Subway to Central Park where some pupils shopped until they dropped and others went exploring Trump Towers and the park which is the most filmed location in the world! We stopped at Macy's department store before returning to the hotel ready to travel home.
The New York trip is a short one but as you can read, it is a jam-packed and tiring trip. The pupils who went this year were absolutely fantastic. Their behaviour was impeccable and I really enjoyed travelling with them. We received nothing but compliments from the general public and I was very proud to be leading the group. I would like to thank Mrs Brown, Mr Carroll, Miss Crawford, Mrs Rutland, Mr Smith and Mrs Swaffield for all of their hard work in keeping the pupils safe and making the trip extra special.
Mrs Antell
Watch this video created by Isobel G for a further insight into the trip's events…