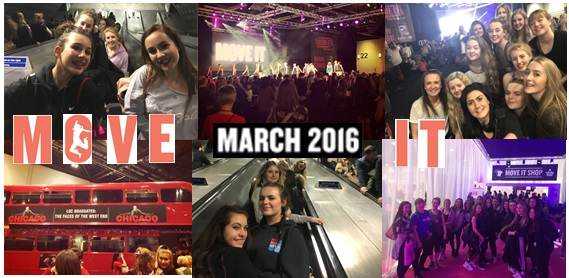 "Move It" Dance Exhibition
A fantastic experience for our Dance students at ExCeL London:
On Saturday 19th, we went to 'Move it' in London. 'Move it' is a huge dance exhibition that happens annually and includes dance companies, choreographers, classes and stalls from all over the world. A few performances included Flawless, The Akram Khan dance company, Twist and Pulse, plus lots of performing arts colleges like Urdang and Bodywork. We took part in a range of dance classes whilst we were there; these included pilates, floor barre, jazz, hip hop, belly dancing, commercial and contemporary.
There were 15 students that went altogether; 6 A-level and Yr 11 GCSE students plus 9 students from Year 10. I really enjoyed going to 'Move it', as did many of my friends who went, as we felt it was a great experience for us as dancers. Personally I would go again next year because I enjoyed it so much.
Written by Issy Stagg – Year 11